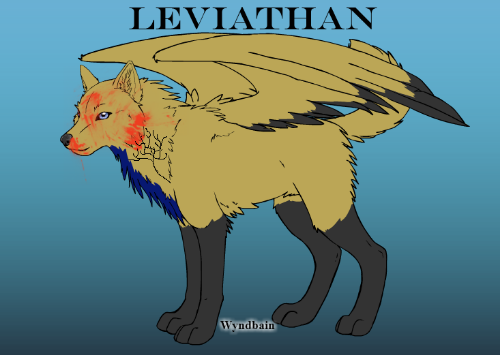 (Image made by me using the Wyndbain wolf maker on Doll Divine)
Name:
Leviathan
Nickname:
Levi (only by Winchester though)
Age:
Dunno, considerably old, though
Gender:
Male
Breed:
???Angel? Fallen Angel? Leviathan (New Breed)???
Alliance:
Chaotic
Parents:
Meh
Siblings:
All of his angelic brothers and sisters, technically. But none that are immediate.
Mate:
?Winchester?
Pups:
Meh
Pack:
Meh
Rank:
Meh
Fighting Style:
Slightly unconventional, in that he usually just zaps people out of nowhere with his angelic abilities, or eats them.
Appearance:
Tan/beige fur as main color, with black boots on his legs. He has a dark blue streak down the middle of his chest. His wings leak black ooze, which burns like acidic tar. There also seems to always be blood on his face, crusted or fresh, which he never bothers to clean off. There are also some black, vine-like markings crawling up one side of his neck.
Personality:
Something is off about him. Due to the voices in his head and corruptness taking over, he is very chaotic in nature. He talks to himself, makes strange expressions, and isn't the nicest when pressed. Once he is obsessed with something, he will stop at nothing to obtain it. Even if it means killing someone or something, or destroying things that get in his way. He doesn't care about others that much, and while not necessarily 'evil' he still has a darker side that thirsts for blood and death.
Special Abilities:
~Zap (Angelic)~
Wherein he puts his paw on someone's head and does one of several things: 1. Teleports them somewhere else. 2. Purifies them (usually for demons or corrupt beings; it's like an instant exorcism for hosts). 3. Heals them.
~Retractable Jaw~
His jaw can retract, much like a snake, to reveal hidden fangs used for eating meals whole.
~Self-Healing~
His wounds automatically heal, if he has enough energy. Otherwise they heal over time using small amounts of energy, fixing the minor stuff first and then focusing on the major ones.
~Flight~
While he still has wings, he can fly around.
~Corrupt Blood~
His blood is black goo, which burns whatever it touches, like acid. Some drips off his wings as they shed, coming out like oil from his glands.
Special Information:
He was corrupted by the evil in The Realm, and coincidentally has a bunch of demons or something in his head, which is why he's going a little crazy. He fell somehow from his angel status and is in the process of falling into 'sin' and losing his angelic abilities, which are slowly being taken over by new, darker abilities.
(Image made by my wifey Mistress_Unknown)